Oct 31, 2022 12:57 PM Central
Stefanie Melo
When I was a little girl I had a vision of what motherhood
should be

.




Motherhood

should

be a married woman, with a diligent, kind and godly husband. Motherhood means being a stay-at-home-mom, and even better a pastor's wife.




In my family I saw a different picture of motherhood, my grandmother was divorced and she was an entrepreneur. My mom was a working mom, both when she was married and when she was single. My aunts (who weren't still teens) were working women, even the moms.



When I was a preteen that vision shifted a bit.
I had begun babysitting for our pastor's family. I developed a mentoring relationship with his wife as I spent time with their family. My vision too a conservative shift in these years.
Motherhood now included not only homemaking, but also homeschooling, sewing, homemade bread and pizza dough, strict discipline, no tv and breastfeeding.
In my teen years, I thought I was called to be a pastor's wife
I really envisioned this type of lifestyle, I planned to go to Bible college. I assumed I'd get married in Bible college and start a family and ministry.
I also attended a christian high school, and my Senior Bible class was titled "Marriage and Family" and I ate. it. up. I don't remember everything I learned there, but it was a very clear vision that women are to be homemaking, childrearing and church serving.
In college, I did not meet anyone I would want to marry, so I had to shift my expectations.
I began seeing myself as a future mother, but in the mean time I had purpose. I made some shifts and began to see myself as a working mom. Working in ministry, of course, but holding both roles perfectly in balance.
One of my best friends was married to an associate pastor and I watched her do motherhood her way, but sometimes I silently judged her because there was conflict in her values and intuitive mothering and the vision of motherhood I'd received.
No one supported me in my lonely moments of christian singleness in my twenties quite like her. I am ashamed I ever held judgment that she didn't do BabyWise or Growing Kids God's way. She has become one of my favorite visions of motherhood: fully herself and fully in motherhood and fully in her passions and calling.
She didn't do everything "the way" I was taught, but dang, she did it beautifully.
Then Motherhood Arrived
When I got married I found out I was pregnant 3 months after we got married. Our sweet miracle (I had severe PCOS and highly irregular menstruation) arrived just one month before our anniversary and six days before our first married Christmas.
At this point in my life I'd sprinkled in other visions of motherhood, that I did not get from Christian culture: homebirth, breastfeeding, healthy eating, clean water and so much more.
The problem was: I didn't integrate these visions well and I certainly didn't embody them. My body wouldn't make enough milk for our baby, I went back to work when she was 8 weeks old, we had some financial pressures and family death, and friend in a desperate health crisis.
My husband wasn't a pastor, I was not only a working mom I was the CEO of my business. I didn't want to be at church all the time (because I had to hid under blankets or nursing rooms to feel comfortable feeding my baby).
I held ZERO motherhood stereotypes well, and now Pinterest existed. So I watched these other SAHM who enjoy crafting doing all these amazing projects.
I failed at all of these visions and I felt like a hot mess all the time.
I won't go in to my shifts in my first 6 years of motherhood, because that's a long story best for another time.
I want to share my vision for motherhood now, and how you can share this vision for yourself.
My vision for motherhood
A confident woman, achieving motherhood in the way that's right for her.
A woman empowered in her choices.
A woman partnered with someone who fully trusts her, deeply supports her and honors her mind, body and spirit.
A woman who follows her passions.
A woman whose passion elevates others.
A woman who does the work of reparenting, so that she can offer parenting that honors her children.
A woman who loves her children with intention, gentleness, kindness and her unique personality.
A woman who educates her child in the way that honors their needs and hers as well.
A woman who offers the best in nourishment to herself and family that she knows about.
A woman who doesn't aim for perfection, because she knows she is enough.
A woman who has faith that lights her up, calls her to her highest self.
A woman who takes care of her body, and releases shame that she's picked up.
A woman who embodies self love and honors her emotions.
A woman who understands her thoughts and beliefs create her experience in many ways.
A woman who sees her mensuration as gift and doesn't fear menopause.
A woman who understands she is not inherently flawed and her body is not a problem.
A woman who seeks to understand child development so that she can show up well for her kids and not hold inappropriate expectations on them.
Motherhood is a beautiful, messy, multifaceted place and we all get to bring our unique interests, skills and dreams to it. We also get to take care off ourselves in the journey.
What is Your Vision for Motherhood?
What shifts have you made?
How Can You edit and adopt this vision for you and your family?
Did you find this helpful? If so, coaching with me 1:1 is the most nourishing way to cultivate shifts in your life. I guide my clients how to take care of mind, body and spirit so that they can feel clarity and confidence. We do this so that you model a lifestyle that is abundant and embodied. We all need other women to cheer us on as we walk this motherhood journey.
To coach with me head to stefaniemelo.com and book your free assessment and planning session-we'll get clear on your struggles and goals and I'll create a plan to overcome and achieve them.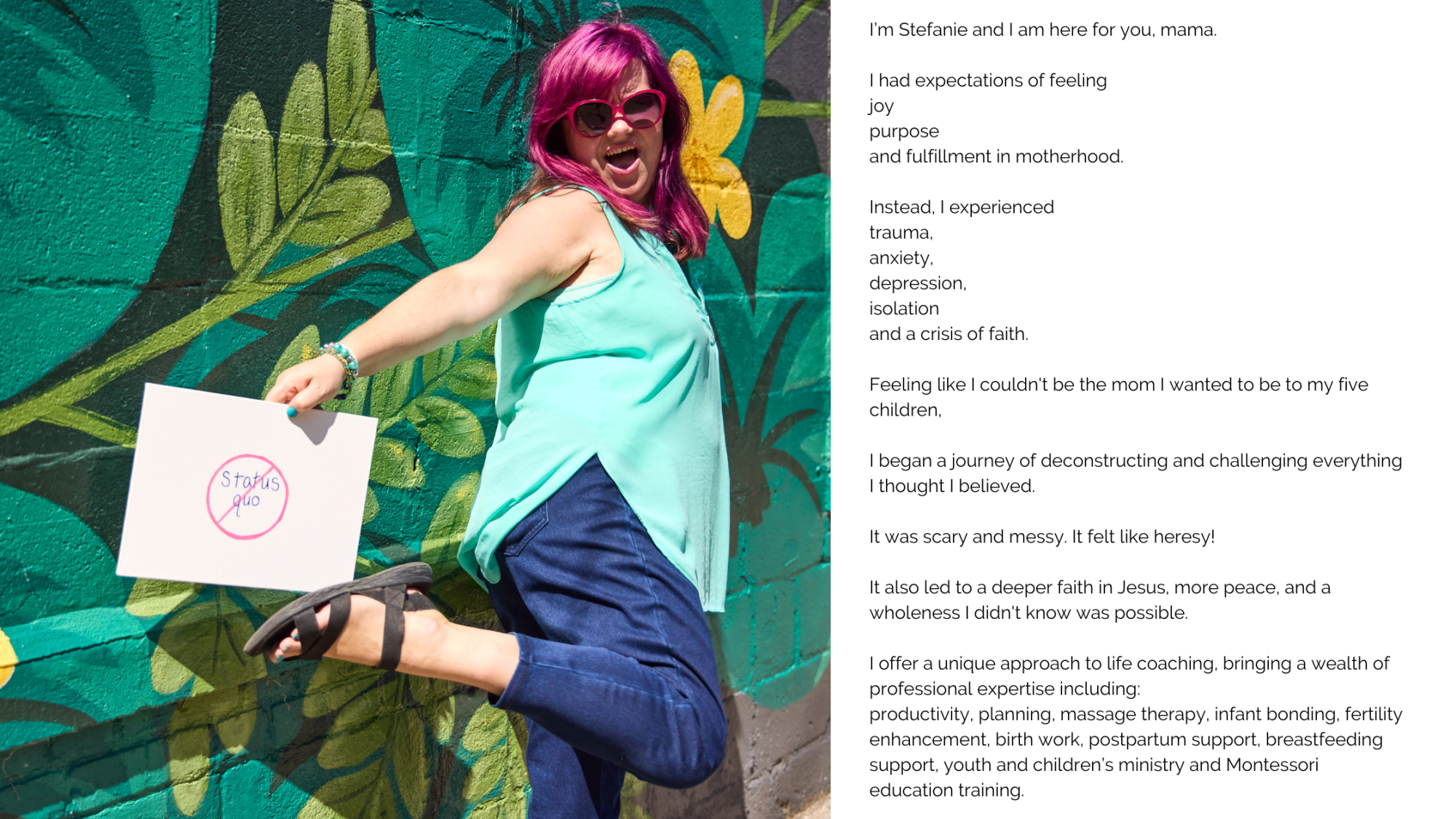 If you are looking for support that acknowledges your mind, body, spirit and human need for community, I am the coach for you!
Book a free planning & assessment session
with me to get clear on what you need. You'll be so glad you did!